Peter Marek, Advantech
As data continues to grow and new base stations become more difficult to find, telcos are embracing a golden opportunity for operators to accelerate the adoption of wireless access network (RAN) virtualization technology. The technology will help operators increase capacity, improve quality of experience (QoE), add new services, and prepare for 5G deployments. However, telco edge devices face stringent physical and environmental constraints compared to standard white-box servers and ultra-large-scale cloud devices used for virtualization in data centers.
This article considers a new system level designed to address mobile edge computing and cloud RAN (C-RAN) requirements. We discuss performance requirements, industry equipment practices, and the environment. We studied how to combine high-performance server processing, high-throughput switching, and carrier-grade availability with Network Function Virtualization (NFV) for operations with an edge aggregation point infrastructure. We looked at a new class of carrier-grade blade servers and implemented such solutions using the Intel® Xeon® processor D-1500 product family. We also describe how the resulting NFV platform simplifies the deployment of core virtual network functions (VNF) anywhere in the network.
Meet Telecom Requirements in RAN Virtualization
Mobile operators see C-RAN as the first step towards the virtualization of 5G and RAN. Operators can use it to optimize existing features and promote new applications at the edge. Deploying more applications at the edge can reduce backhaul link capacity and peak traffic levels, allowing operators to upgrade radio frequency (RF) and baseband resources instead of using backhaul links to meet demand.
Although C-RAN uses open platform technology, the requirements of edge hardware are very different from those of standard data center servers. In very large-scale data centers hosting NFV infrastructure (NFVI) tunnels, redundancy can reduce the criticality of single-system failures. The situation at the edge is different. The base station hosts only a few racks, or hosts an incompletely populated NFVI rack in the case where the telecom solution shares rack space. Any system failure can negatively impact service availability and QoE. Since these base stations are often remote and unmanned, maintenance costs are high and time is long.
Edge hardware requirements also typically include meeting telecom equipment standards such as NEBS in the United States. NEBS Level 3 has strict specifications for fire protection, thermal margin testing, vibration resistance (earthquake), air flow patterns, acoustic limits, fail-over and local operating requirements, RF radiation and tolerances, and test/certification requirements.
To increase the complexity of supporting NFVI's rapid expansion capabilities, edge hardware must make optimal use of floor space. While most NFVs take up space in central offices and data centers, the real opportunities are marginal. Regrettably, space, power distribution, and cooling systems are often limited.
Telecommunication system for C-RAN
After recognizing the need for innovative edge solutions, Advantech, a global manufacturer of telecommunications computing platforms, rebuilt carrier-class blade servers. Advantech's Packetarium XLc is an extended platform that combines AdvancedTCA-like (ATCA) infrastructure and management in a more compact, versatile, cost-optimized design (Figure 1).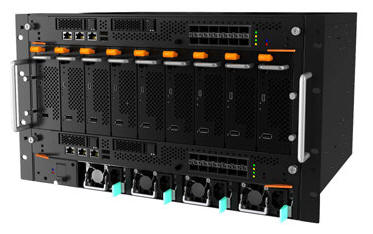 Figure 1. Advantech's Packetarium XLc carrier-grade blade servers combine AdvancedTCA-like (ATCA) infrastructure and management in a more compact, versatile, cost-optimized design.
This highly scalable platform features shallow depth, straight airflow in front and rear, and power consumption of only 400 W/rack, delivering the highest compute density in a 400-mm-depth 6U carrier-grade chassis. It houses up to 288 powerful Intel® Xeon® processor cores in the wall. The Packetarium XLc designed for the industry standard 19" rack is deployed in data centers, central offices and network edge base stations.
Maximum computational performance per kilowatt and square foot
The Packetarium XLc series has a power rating of 2.4 kW/chassis and 16.8 kW/42U racks. Compared to traditional telecom platforms – ATCA, traditional IT 1U white box server battles and Open Compute Project (OCP) methods in hyperscale data centers – Packetarium XLc offers the highest computational density per kilowatt and per square foot of floor space (Figure 2) .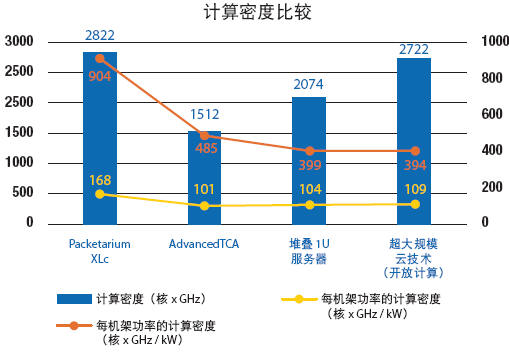 Figure 2. This graph shows the results of a comparison in November 2015 based on Advantech's performance calculations for Packetarium XLc's NFVI over the other three solutions. The comparison is based on a complete equipment rack with a redundant 1 Gigabit Ethernet (GbE) control plane, a redundant 10 GbE data plane, and two redundant cloud control nodes.
In this 2015 comparison, Advantech tested Packetarium XLc's NFVI on top of a complete equipment rack with a redundant 1 Gigabit Ethernet (GbE) control plane, redundant 10 GbE data plane, and two redundant cloud control nodes. Solution performance. This comparison uses the number of cores of the Intel Xeon processor D-1500 product family SKU multiplied by the processor frequency as the density index. This method is suitable for NFV and other virtualized workloads and removes dependencies of different processor SKUs supported on different platforms.
The power budget is based on full rack power consumption and does not include the daily overhead and wear associated with utility level power distribution and cooling as these are often different. Similarly, the floor space only includes the rack itself, not including the access and support infrastructure space.
Designing for network function virtualization
One of the basic principles of telecommunication networks is the separation of control and data platforms. The function of controlling the network elements and the network itself, independent of the communication load, has the effect of preventing excessive user communication from affecting the function of adjusting the network through the control plane.
The Packetarium XLc built from scratch for telecom use contains built-in support for control and data planes via two separate Ethernet fabrics. To meet the availability requirements of carrier-grade NFVs, the two architectures implement a binary topology to avoid single points of failure. The control and data plane architecture interfaces with two redundant switch management blades and also integrates system and chassis management functions to maximize efficiency and density at the lowest cost.
Carrier-class design and reliability
The system offers 99.999% availability and NEBS Level 3 compliance in a highly versatile modular design. Its high availability features include:
• 2+2 redundant power supply unit (PSU) with 48VDC feed or 220VAC feed
• Single fan fault survival function
• Redundant system management, system architecture switches and control modules
• Hot-swappable node blades for maximum uptime using field replaceable units (FRUs)
Redundant AC power schemes simplify deployment in the traditional environment where each rack only partially powers two loops. The solution also provides greater system availability than the N+1 topology; a phase of disruption does not affect the power integrity of the system.
Single and dual-node Intel Xeon processor blades can fit into nine front slots. Universal compute blades can run application workloads (VNF) while private cloud control nodes have collaboration and virtual infrastructure management capabilities. Cloud storage nodes and media and image processing nodes for content caching will be available in early April 2016.
The 9-slot midplane connects the two switch management modules with each node and infrastructure component in the chassis. Redundancy schemes and dedicated crossover interfaces allow failover between the switching and management modules. Rack-level battle support and integration with Advantech's Advanced Platform Management simplify overall cluster management.
Ten enhanced small volume factor pluggable (SFP+) ports provide external data plane connectivity and two SFP+ ports provide control plane connectivity. Two GbE copper ports, two USB ports, and an RS-232 console provide optional direct access to the management system. Front-attached cable trays are offered as accessories to simplify rack-level cable management.
The power behind the blade
Packetarium XLc extends computing performance over nine Intel Xeon processor blades. Dual-node Intel Xeon processor blades deliver higher processing density and lower power sizes, providing the largest number of powerful Intel Xeon processor cores in a compact 6U platform. For media processing and content processing needs, the platform provides a flexible infrastructure for adding video acceleration hardware to provide unprecedented video encoding capabilities.
Advantech offers three powerful blades for the most demanding NFV workloads:
• MIC-8302C single-node compute blade with Intel® Xeon® processor E5-2600 v3 product family with up to 14 cores
• MIC-8304C single-node control blade with Intel® Xeon® processor D product family of SoCs with 8 or 16 cores, two M.2 2242 SSDs, and two 2.5" SATA SSDs for on-board storage (image 3)
• MIC-8303C dual-node compute blade with selectable 8- or 16-core Intel Xeon processor D-1500 SoC (Figure 3)

Figure 3. The figure shows Advantech MIC-8303C (left) and MIC-8304C (right) node blades.
The Intel Xeon processor D product line makes the latter two blades particularly attractive. These processors bring the performance and advanced intelligence of Intel Xeon processors into a denser, lower power SoC, allowing Packetarium XLc to provide best-in-class computing density.
As Intel's third-generation 64-bit SoC, the Intel Xeon processor D-1500 product family leverages industry-leading 14 nm process technology to address a wide range of low-power, high-density infrastructure needs. The SoC uses integrated platform controller hub (PCH) technology, two integrated 10 Gigabit Intel® Ethernet ports, and thermal design power (TDP) from 19W to 65W. It can run the same instruction set as the more powerful Intel Xeon processor, providing software consistency from the data center to the edge of the network.
These SoCs have taken a big step forward on the Intel® AtomTM processor C2750 SoC, with a performance improvement of up to 3.4 times per node and a performance increase of 1.7 times per watt. Outstanding node performance, up to 12 MB of last-level cache (LLC), and support for up to 128 GB of high-speed DDR4 memory make the Intel Xeon processor D-1500 product line ideal for a wide range of workloads and applications.
Some advanced server-level features include:
• Enhanced reliability, availability, and serviceability (RAS) capabilities, including support for error correction code (ECC) memory and platform-level error management and resiliency
• Built-in hardware virtualization, providing services dynamically when telecom companies extend NFV to the edge of the network
• Intel® Advanced Encryption Standard New Instructions (Intel® AES-NI) to accelerate data encryption and decryption without affecting QoE
• Support for Intel® QuickAssist Technology allows for transfer of security protocols such as IPsec from the processor for greater efficiency
Extends NFV beyond the edge of the network for C-RAN applications
The Packetarium XLc Series brings new life to the carrier-class blade server market with a significantly more cost-effective design that is more compact than ATCA. The platform combines IT and high-end networking capabilities, as well as high availability and NEBS-compliant designs, to enable universal scalable servers that can run central office VNFs anywhere in the network. With blades based on the Intel Xeon processor D-1500 product family, the platform offers higher processing density and lower power size than the compact 6U platform previously recognized.
Home Appliance Voltage Protector
Household Smart Voltage Protector,Household 5A-15A Voltage Protector,Household 15A Power Voltage Protector,Household Universal Socket 30A Voltage Protector
Yuyao Huijun Electrical Appliance Co., Ltd. , https://www.yyhjdq.com