On January 5-6, 2017, the 2016 Gaogong LED Annual Meeting and Golden Globe Awards Ceremony and the 10th Anniversary of High-Industry Research and Development (2006-2016) hosted by Gaogong LED The celebration was held in Shenzhen.
On the afternoon of January 6th, at the closing ceremony of "The Future of LED" by Mulinsen, Bian Difei, vice president of Huacan Optoelectronics, delivered a keynote speech on "The New Cycle and New Opportunities of the LED Chip Market".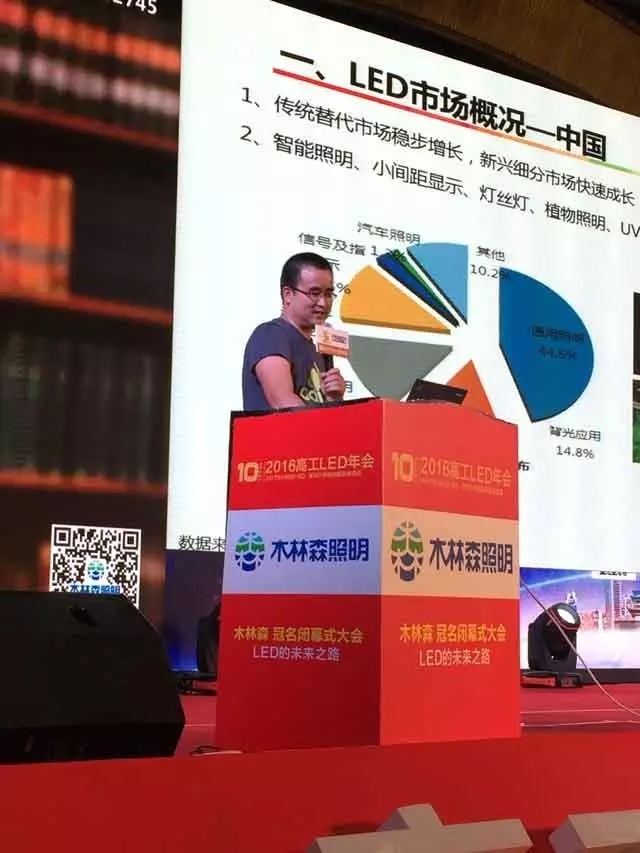 Vice President of Huacan Optoelectronics, Bian Difei
Bian Defei pointed out that from the perspective of the LED global market, some LED manufacturers began to reduce production in 2015, and the price decline of LEDs gradually slowed down. From 2016 to 2021, the annual compound growth rate of the LED industry is only 2 to 3%. Applications such as backlights (especially small and medium sizes) will decline year by year due to the rise of OLEDs. As the penetration rate of LED Lighting stabilizes, the overall output value tends to slow down.
As a result, the LED industry is looking for emerging applications to drive market demand, such as automotive lighting, as well as applications such as invisible light (IR).
Regarding the new application of LED, Bian Defei believes that there are still many features of LEDs that have not been tapped and utilized in existing products, such as programmable control of LEDs; this also means that it has entered a new era of LED+.
Regarding China's LED market, the traditional LED replacement market has grown steadily, and emerging market segments have experienced rapid growth. Among them, intelligent lighting, small-pitch display, filament lamp, plant lighting, UV-LED, IR-LED, optical communication, and automotive lighting have become hot spots in the market.
In response to the future of LED, Bian Defei believes that after a period of development of any new thing, it will eventually form a certain pattern, encountering the problems currently encountered.
For example, in the display field, there will be new markets in the cross-border of TV manufacturers and panel manufacturers, but there are also great challenges in the new market, so companies need to quickly identify their own market positioning.
In the field of lighting, GaN is mainly used to save energy. However, its features such as program control, miniaturization and light weight have not been fully applied, and intelligence will gradually be reflected. However, this market is very competitive and there are many cross-border competitions. The challenges facing enterprises are great.
In the field of backlighting, the traditional backlight will decline, and the impact of new technology is very large. Therefore, the potential backlight market will be large in the future, but the competition is fierce.

Formation System,Quality Formation System,Formation Automatic Line System,Automatic Battery Waterbath Formation System
Zhejiang Baishili Battery Technology Service Co,.Ltd. , https://www.bslbatteryservice.com