LEDs outperform traditional lighting sources in many ways, including higher energy efficiency, longer life and smaller size. However, cost issues have been a headache for many lighting design engineers, which is why LED manufacturers continue to innovate and increase economies of scale. Chip-on-board (COB) light source modules are one of the latest packaging methods to help reduce costs. In this module, the LED chip is in the form of a semiconductor chip, which has neither a housing nor a connection, and is simply mounted directly on the PCB or, more generally, mounted on the substrate. Moreover, this form of packaging brings many related advantages, such as more flexible design, better light distribution, and simpler manufacturing process.
Designers want to seriously consider whether to use COB LEDs in their next-generation lighting designs for other reasons. In a recent report from Research and Markets, analysts pointed out that COB LEDs are wide-area light emitters (and therefore available for highway and street lighting) with three major advantages: better color mixing, better Lighting effects and low thermal resistance requirements. The company's analysts point out that these COB LEDs also offer higher power density, more efficient heat dissipation and require less board space, making them ideal for a wide range of general lighting applications.
Now let's examine several COB LED products, including Bridgelux's VeroTM, Sharp's Zenigata, and Cree's CXA products, to see how these products can save energy and reduce costs while simplifying lighting design.
Bridgelux (Livermore, CA) introduced the high-performance Vero series COB LED arrays last year (Figure 1): nominal luminous flux of 120 lm/W and minimum average luminous flux of 110 lm/W. According to reports, this improvement makes it about 11% more energy efficient than its predecessor. The series features a four-sided illumination (LES) configuration with a wide operating temperature range. In addition, the Vero array offers two SDCMs (Color Matching Standard Deviation) and three SDCM color control options for high-precision color control and uniform illumination.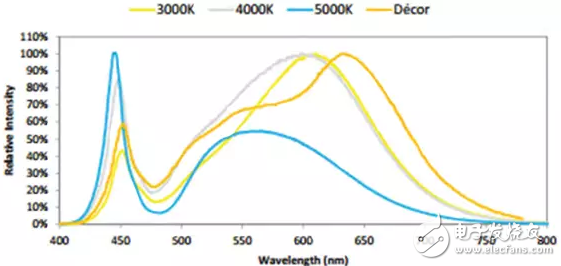 Figure 1: The Bridgelux Vero Series offers 70, 80, 90, and 97 Décor CRI options. (The warm white spectrum is 3,000 K 80 CRI, the natural white light is 4,000 K 80 CRI, and the cool white light is 5,000 K 70 CRI. Thanks to Intellident for providing data).
According to Bridgelux, high-precision color control "improves light quality by achieving greater uniformity and uniformity between adjacent sources." In addition, the Vero series exceeds the California Energy Commission's R9 requirements for lighting fixtures.
According to Bridgelux, all form factor devices based on a 3,000 K, 80 CRI configuration with nominal current drive have an average output performance of 120 lm/W. However, designers can achieve output performance of up to 140 lm/W with low current drive.
In addition, the Vero platform enables plug-and-play connections via on-board connector ports, allowing lighting manufacturers to make solderless electrical connections and easy installation, thus helping to simplify the manufacturing process. Specific advantages include low cost, fast time to market, and lower inventory requirements.
The following are the main technical specifications:
Lumen output performance range is 240 - 16,400 lumens
CCT is available between 2,700 and 5,000 K
CRI optional 70, 80, 90 and 97 CRI Decor products
Three SDCM standards for 2,700 K to 4,000 K CCT and two SDCM options
Reliable operation with up to 2 times rated current drive
Radial chips increase lumen density and beam control
Thermally isolated pad
No solder connector port with plug-and-play connectivity and field upgrades
Logo and 2D barcode are located on the upper side of the product
Other benefits include compatibility with a wide range of standard drivers (350 mA current increments) and optics, making designs more flexible and wider choices, thus reducing development cycles, reducing costs and reducing annoying inventory issues.
Zenigata COB technology from Sharp Electronics Corp. also simplifies design. The series includes three variants: Mega, Mini and PeTIte Zenigata. Sharp's design changed the metal substrate to a ceramic substrate. According to the company, the material has the best thermal performance and no discoloration. That is to say, the lumen output can be kept constant, but there is no color change. The uniform LES simplifies the optical design while improving the quality of the light in a variety of different applications.
The Sharp COB module is described in detail below.
The Mega Zenigata 50 - 80 W module is energy efficient and is designed for high power lighting applications. It is reported that high-brightness LEDs can eliminate the problem of uneven light source around multiple LEDs in a lighting fixture. These modules allow only one LED to be used in one fixture, saving space and eliminating uneven illumination. The Mega Zenigata series is available in 20 & TImes; 24, including both high CRI and low CRI modules with minimum CRI performance of 90 and 80 respectively. These COB LEDs can be used for indoor and outdoor lighting, including architectural lighting, spotlights, spotlights, recessed downlights, venue and object lighting.
Sharp offers the 15 W Mini Zenigata COB Series for mid-size applications, with a round 8 mm LES that simplifies lens and reflector design. According to Sharp, the Mini Zenigata LED is packaged at 15 x 12 x 1.6 mm and has a surface area of ​​about one-third that of the Mega product and reduces the area of ​​illumination. Applications include indoor and outdoor lighting, architectural lighting, reading lights, mobile lighting, signal and sign lights, and venue and object lighting.

4L Deep Fryer,Household Electric Deep Fryer,Extra Filter 4.5L Electric Deep Fryer,Timer Control Electric Deep Fryer
Shaoxing Haoda Electrical Appliance Co.,Ltd , https://www.hotplates.nl